By Kyle Jaeger
More people are using marijuana as a substitute for traditional pharmaceuticals—and so are man's best friend: dogs.
To date, there's been limited research into the effects of administering cannabis to pets. But a recent study, published in the journal Frontiers last month, offers new details about how cannabidiol (CBD) oil can alleviate the symptoms of osteoarthritis in dogs.
Researchers at Cornell University recruited 22 dogs with osteoarthritis—a condition characterized by inflammation caused by the deterioration of muscle tissue connected to bone joints—and administered different doses of hemp-derived CBD oil as part of a "randomized, placebo-controlled, owner and veterinarian double-blind, cross-over trial."
The results appear to confirm what many pet owners who've given their dogs CBD have anecdotally reported: It helps. Throughout the experiment, researchers relied on licensed veterinarians, as well as the pet owners, to document each dog's pain status and activity.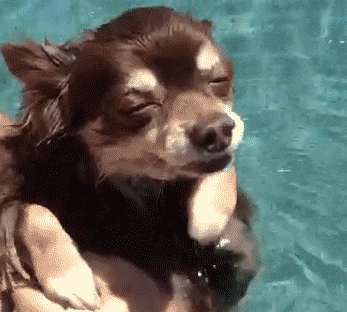 The study "showed that CBD oil increase comfort and activity in the home environment for dogs with [osteoarthritis]," the study authors wrote. "Additionally, veterinary assessments of pain were also favorable."
While news reports have circulated about the dangers of accidental pet ingestion of psychoactive THC-infused marijuana products, the researchers didn't observe any serious, adverse side effects from the CBD-focused treatment. Some dogs received 2 milligrams of CBD per kilogram twice daily, others received 8 milligrams of CBD per kilogram twice daily, and a control group received a placebo oil. The dogs who got the CBD seemed to do just fine.
The only side note is that researchers observed "incidental rises in alkaline phosphatase that could be related to the treatment" for some of the dogs when they tested their blood.
Still, CBD may prove to be a preferable treatment options for some dogs with osteoarthritis. The condition is typically treated with non-steroidal anti-inflammatory (NSAID) painkillers, which can cause problems with the kidney and gut, the researchers noted.
Why this study matters.
There's growing interest among pet owners in the potential benefits of CBD treatment for a variety of conditions—from arthritis to anxiety to epilepsy.
Several cannabis companies specifically market their CBD products toward pets. (This study was funded via a grant to Cornell University by Ellevet LLC, a company that produces cannabis pet treats). But because marijuana remains illegal under federal law, veterinarians risk losing their licenses if they recommend marijuana-based products.
At the same time that more research is coming out about the potential medical applications of cannabis in humans, other recent studies have bolstered anecdotal accounts about the benefits of cannabis for pets. For example, a preliminary report from Colorado State University found that CBD can reduce the frequency of seizures in epileptic dogs by as much as 89 percent.
And earlier this month, a Canadian company received government approval to test CBD-infused pet food as a means of mitigating anxiety among dogs, Newsweek reported.
To be sure, not all ingredients in marijuana affect animals in the same way that they affect humans. But this and other recent research is giving pet owners eager for alternative treatment options some relief, showing that cannabis can, in fact, provide some relief for dogs without serious side effects.
Read more from the source: MarijuanaMoment.net
Photo courtesy of Chris Yarzab.